Introducing the 2012 Tiguan
The new face of performance
What's the best way to describe the perfect amount of space and comfort, the power of a sport-tuned engine, and the renowned Volkswagen safety, all complemented by a gorgeous new exterior? In a word, balanced. Introducing the new 2012 Tiguan. Refreshed inside and out, it features a redesigned grille and updated headlights, restyled taillights, new high quality cloth seating surfaces, and improved fuel efficiency, all of which make it stand out more than ever. Of course, the 2012 Tiguan still blasts down the road with its 200-hp turbocharged engine and available 4MOTION® all-wheel drive, so it can effortlessly adapt to any environment. That's the key to its charm. It's designed to fit into your versatile life, and a compact parking space, perfectly.

Trim Levels
2012 Tiguan 2.0T S - Includes: 2.0T, 200 HP / 207 lbs-ft TSI™ engine, 16" Portland alloy wheels w/ 215/65 R16 98H all-season tires (16" steel wheels for manual model), TPMS, front & rear disc brakes, speed-sensitive power steering, trailer hitch prep, cloth seating, front manual lumbar support, split folding rear seats w/ recline & center armrest, carpeted floor mats, climatic A/C, cruise control, intermittent front windshield wipers, power adjustable heatable exterior mirrors, daytime running lights, RCD310 radio w/ 8 speakers, aux in, Bluetooth®, outside temp display, trip computer, alarm w/ immobilization device, ESC, LATCH, driver & front passenger airbags, curtain airbag system for front & rear passengers w/ front side airbags

2012 Tiguan 2.0T S w/ Sunroof - Includes S features, plus: power tilt/sliding panoramic glass sunroof, tinted windows

2012 Tiguan 2.0T SE - Includes S features, plus: 18"New York alloy wheels w/ 235/50 R18 97H all-season tires, leatherette seating, heatable comfort front seats, leather wrapped multi-function steering wheel & gearshift knob, front seats manual height adjust, driver seat power recline, silver roof rails, heated front washer nozzles, front fog & cornering lamps, Premium VII radio w/ Sirius® satellite radio, MDI w/ iPod® cable, compass, multi-function display
2012 Tiguan 2.0T SE w/ Sunroof & Nav - Includes SE features, plus: power tilt/sliding panoramic glass sunroof, RNS 315 navigation system

2012 Tiguan 2.0T SEL - Includes SE features, plus: 19" Savannah alloy wheels w/ 255/40 R19 96H all-season tires, sports suspension, leather seating sur-faces, silver metallic interior trim, power adjustable driver seat w/ memory & power lumbar, climatronic A/C, intermittent front windshield wipers w/ rain sensor, keyless access w/ push-button start, auto-dimming interior rearview mirror, power tilt/sliding panoramic glass sunroof, power foldable/adjustable/heatable exterior mirrors, bi-xenon headlights w/ auto range adjustment & AFS, LED daytime running lights w/ low-beam assist & coming home function, RNS 315 navigation system

2012 Tiguan 2.0T SEL w/ Premium Nav - Includes SEL features, plus: RNS 510 navigation system w/ rearview camera (rearview camera is removed on Restriction models)

2012 Tiguan 2.0T SEL w/ Prem Nav & Dynaudio® - Includes SEL features, plus: RNS 510 navigation system w/ rearview camera (rearview camera is removed on Restriction models), Dynaudio® 300W premium sound system w/ 8-channel amp & 8 speakers

Performance
Getting there is more than half the fun

At Jim Ellis VW of Atlanta we believe that the journey is just as important as the destination, the 2012 Tiguan delivers a memorable driving experience every time you get behind the available leather-wrapped, multi-function steering wheel. That's because while the 2012 Tiguan is all compact SUV on the outside, under its hood beats the heart of a sports car. A GTI to be exact. Powered by the 2.0L turbocharged engine with 200 horsepower and 207 lbs/ft of torque, the 2012 Tiguan takes you from zero to 60 in 7.9 seconds while getting a better-than-ever 27 highway mpg. It's the type of power you'll appreciate whenever you have to get on a I-85, and fuel efficiency you'll notice every time you drive past the filling station.

Every 2012 Tiguan comes with FSI® direct injection technology that precisely sends atomized fuel into the combustion chamber of each cylinder. What does that all mean? Well, it makes the engine 25% more efficient than conventional injection engines. And that equals lower emissions and more power. It also gives you a few more victory laps around the Atlanta before you stop for gas.

*Optional towing package required. **Feature available on select models. ?2012 2.0L TSI, automatic transmission: 22 city/27 highway mpg EPA estimates. 453 miles per tank. Range based on 27 highway mpg EPA estimate and a 16.8-gallon tank. Your mileage will vary.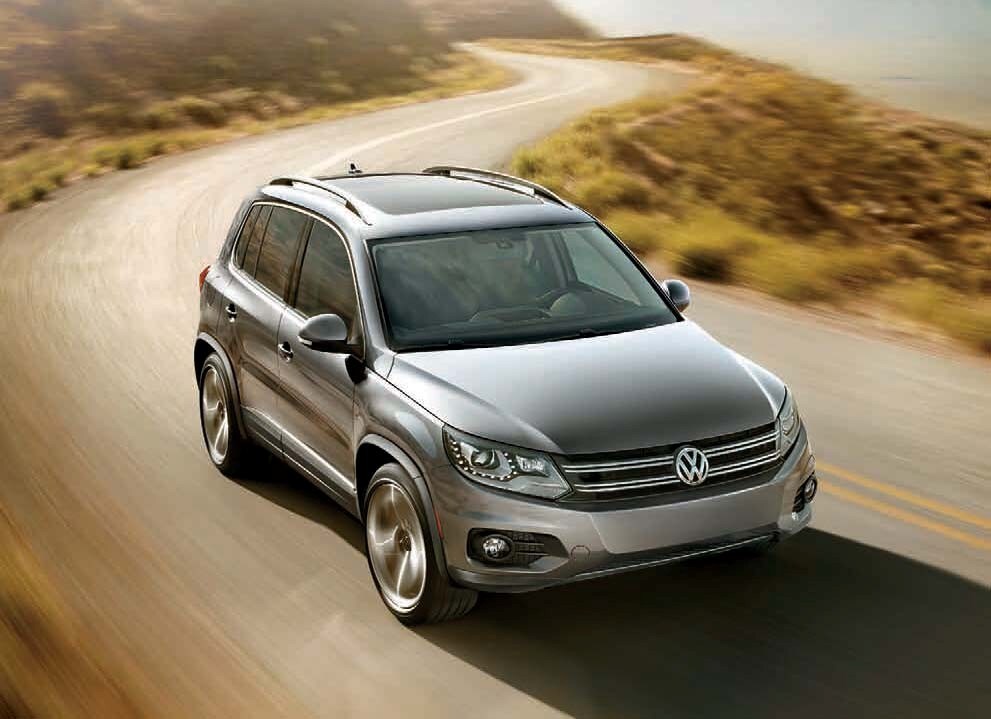 Versatility
It packs a wallop. And a lot of other stuff.

Yes, technically, it's a compact SUV. But a quick look inside shows that the 2012 Tiguan has a lot more than meets the eye. For starters, there's the 40/20/40-split folding rear seat, offering six different configurations for maximum flexibility and cargo space. Plus, the rear seats slide forward and back, just in case you need more room in the trunk. There are even hooks in back that you can use to tie down anything you put in the trunk to keep it from sliding around, which is good for your stuff and for your safety. And there's even a 12-volt power outlet that you can use to plug something in when you're on the move.

40/20/40-split folding rear seats. Most SUVs come with a 60/40-split rear seat. Then again, the 2012 Tiguan isn't just any SUV. So we gave it a 40/20/40-split folding rear seat that creates a generous 56.1 cubic feet of cargo space with the rear seats folded down flat. Of course, you can fold one seat back up if your cargo happens to be a couple of skiers. Or, you can fold them both back up and leave the middle folded down?and still have plenty of room for three skiers and their skis.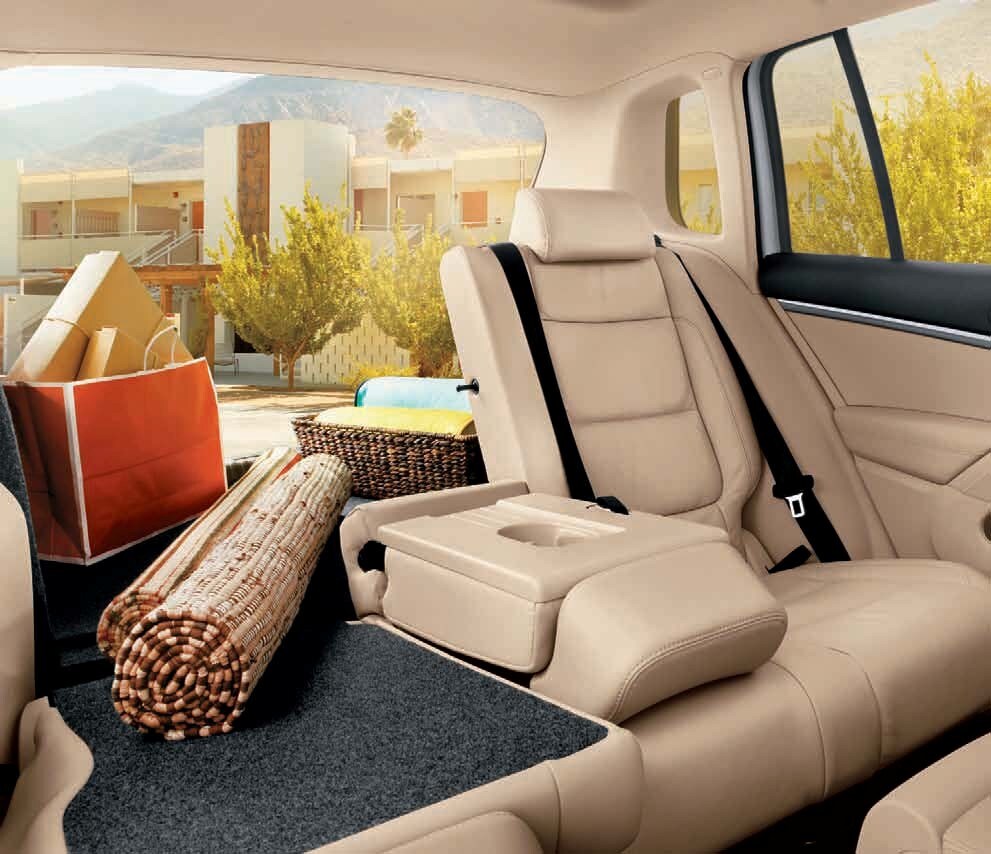 Comfort
Climb inside your comfort zone.

The 2012 Tiguan doesn't just take you to your happy place, it is your happy place. From the moment you step into Jim Ellis VW of Atlanta and slip into the 2012 Tiguan's available premium 12-way adjustable power driver's seat, you can't help but notice the airy roominess and refined craftsmanship that surrounds you. From the available leather seats and huge panoramic sunroof to the soft-touch materials throughout, the Tiguan's cabin is a study in upscale sophistication and comfort. One that's not only pleasing to the eye, but to the legs, backs, and rear ends of up to five adult passengers as well.
Panoramic sunroof. There are sunroofs and then there's the 2012 Tiguan's jaw-droppingly huge available power-sliding panoramic sunroof. At 12.7 square feet, it lets in three times more fresh air and sunlight than the average sunroof, so there's never an un-sundrenched seat in the house. Let the blue-sky gazing begin.
*Feature available on select models.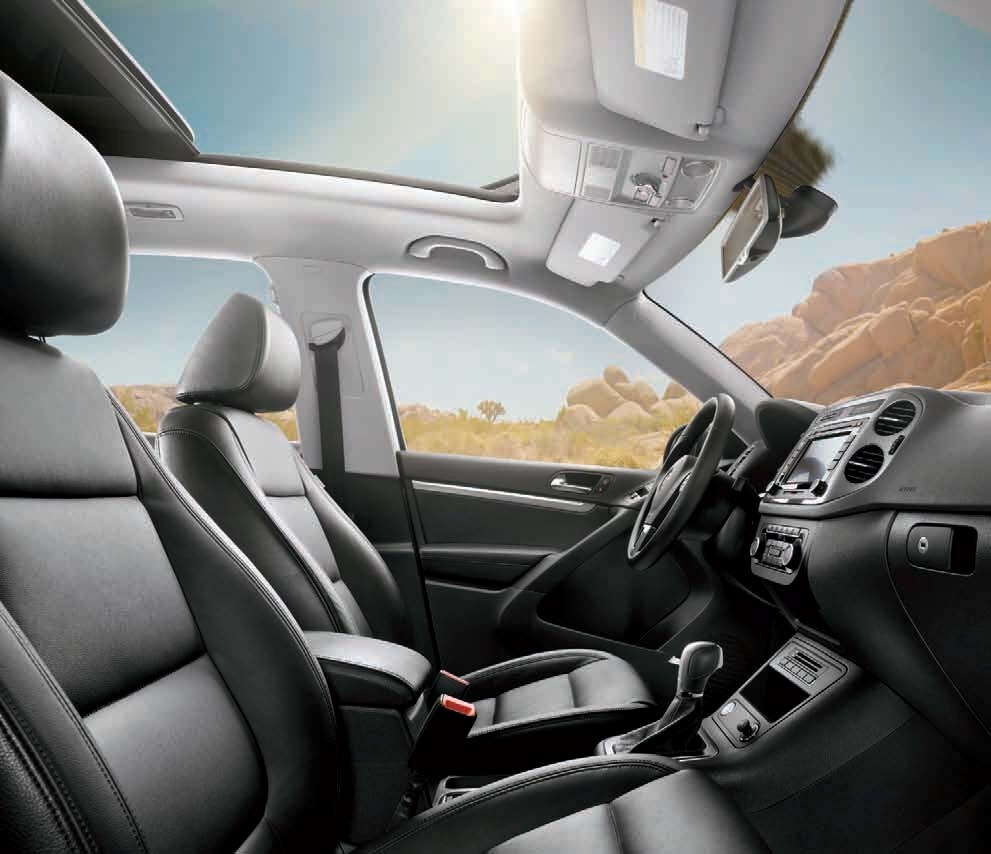 Design
Designed to turn heads. Built to perform.

With its turbocharged engine and sporty design, the 2012 Tiguan has always turned heads in a hurry. So rather than mess with a good thing, Volkswagen simply updated it. First, they redesigned the chrome grille and framed it between a pair of assertive headlights accented with available Bi-Xenon™ headlights with LED Daytime Running Lights, giving it a modern and sleek look. Then, they restyled the taillights by incorporating a striking "double L" pattern into the design. And to complete its sporty look, the 2012 Tiguan now features available factory-installed 19-inch Savannah alloy wheels, so no matter where your journey takes you, you're sure to arrive at your destination in style.

Bi-Xenon headlights with Adaptive Front-lighting System (AFS). Brighter than halogen or regular filament bulbs, the available special headlights with AFS turn up to 15 degrees around corners, effectively seeing into the future.

LED Daytime Running Lights. These special Daytime Running Lights use Light Emitting Diodes (LED). LED lights illuminate almost instantly, use less energy, and last significantly longer than standard light bulbs.

*Feature available on select models.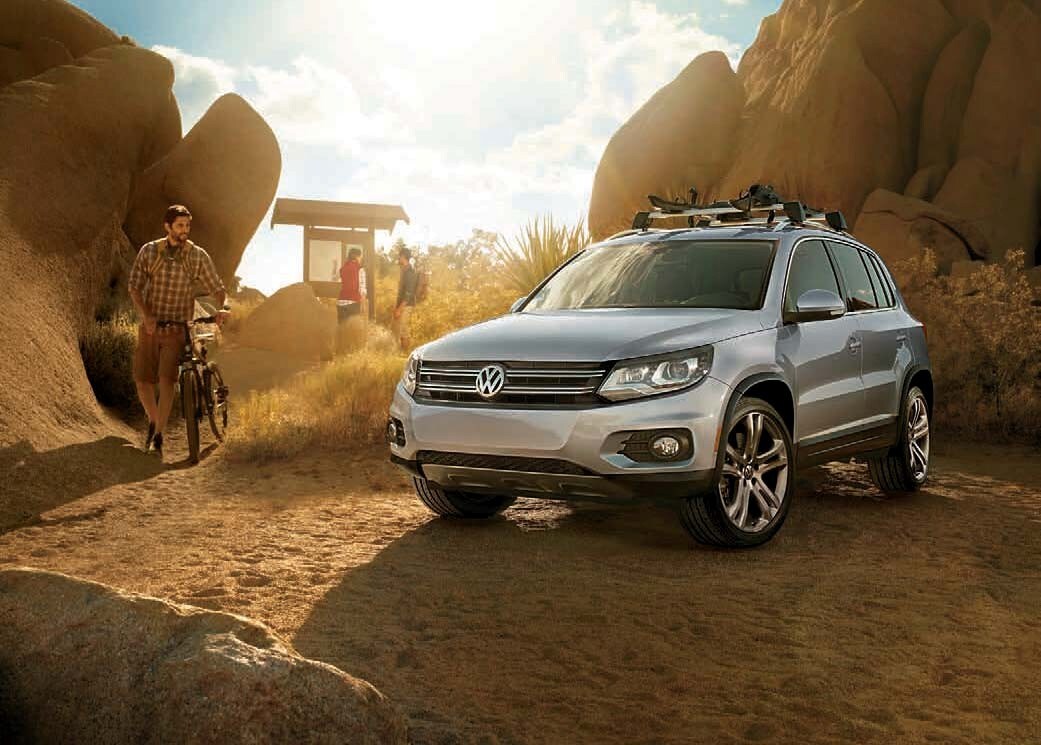 Safety
Fully loaded with peace of mind.
It's one thing to be safe. It's quite another to be given accolades for safety. So when the 2011 Tiguan earned the Insurance Institute for Highway Safety's (IIHS) Top Safety Pick award for the second year in a row, we were honored, but hardly surprised. That's because every Volkswagen is engineered to the highest standards. Volkswagen standards. And it's why every model is equipped with active and passive safety features like Electronic Stability Control (ESC), Hydraulic Brake Assist (HBA), and a crash-optimized front end to help protect you in the event of a collision. So you can drive with confidence knowing you're not just safe, you're Volkswagen safe.

Active safety. Active safety features are the things that help you prevent a collision, such as headlights, turn signals, mirrors, brakes, steering, and traction control elements like ABS and ESC. They may sound basic, but those elements can help save your life.

Passive safety. Passive safety features are what help protect you during an accident, such as safety belts, airbags, steel-reinforced seating, safety cages, and crumple zones. You know that German engineering you love under the hood? Well, it's actually throughout the entire car.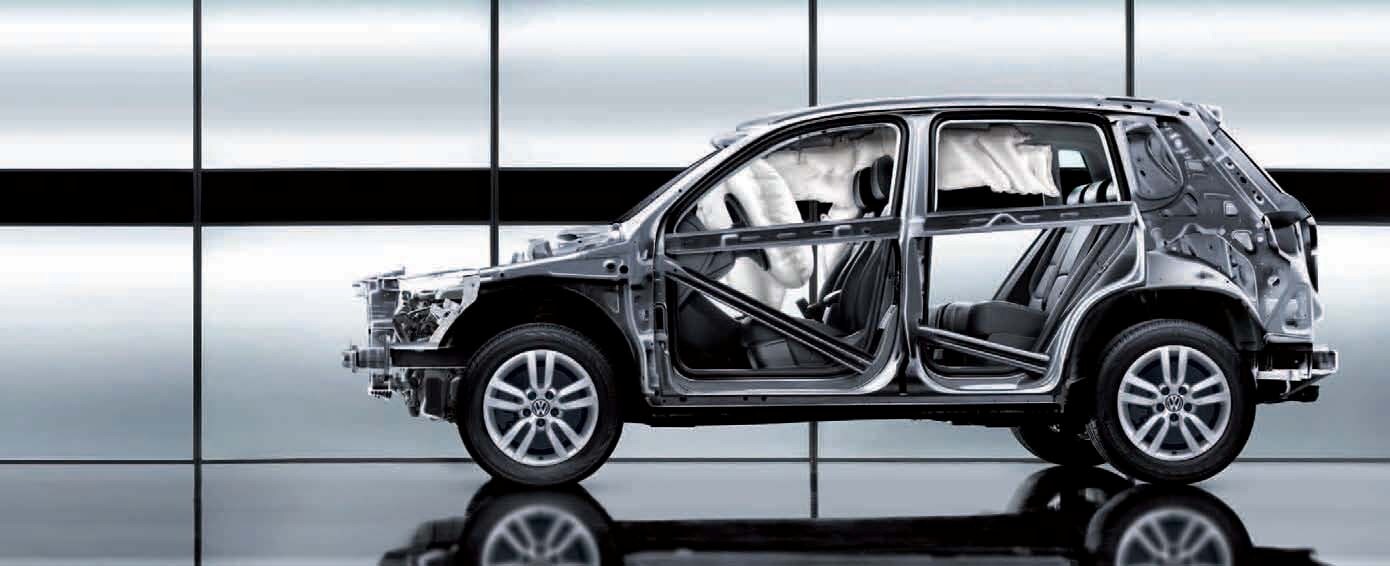 Active Safety
Anti-Slip Regulation (ASR)
ASR helps prevent the wheels on your 2012 Tiguan from spinning when you accelerate by denying engine power in situations when it senses wheel slippage.

Anti-lock Braking System (ABS)
ABS actually serves two purposes when it comes to safety. Not only does it help keep the brakes from locking up during sudden stops, it also helps you retain control over the steering in the event of emergency braking.

Brake disc wipe feature
Starting fast is nice. But stopping fast is a must. So we included a brake disc wipe feature that activates when it's raining and your wipers are on to help maximize your braking ability and minimize the distance required to stop.
Hydraulic Brake Assist (HBA)
HBA helps ensure that you get the maximum power from the brake system. How? It judges the suddenness of the braking and applies extra pressure when you need it most.
Electronic Stability Control
ESC helps prevent oversteer or understeer during an evasive maneuver by applying corrective forces to each of the wheels. In other words, it helps you maintain control.
Passive Safety
Crash-optimized front end
Integrated right into the front structure of your 2012 Tiguan are impact-absorbing elements that allow for compression during a collision. That helps minimize the energy that reaches you.
Pressure sensors for side airbags
Pressure sensors within the doors help reduce precious reaction time by responding instantly to a breach in the outside door panels and triggering the sidecurtain airbags.
Tire Pressure Monitoring System (TPMS)
You have enough to think about without having to remember to check your tires. So we added the TPMS to monitor tire pressure and inform you of any loss in pressure when it occurs.
Safety cage
Beneath all that sheet metal, every 2012 Tiguan has a specially reinforced safety cage complete with anti intrusion side beams and heat-formed B-pillars, designed to help protect you in the event of a collision.
Intelligent Crash Response System
After the airbags have been deployed or the safety belts have triggered in a collision, the ICRS automatically unlocks all doors, disables the fuel pump, and turns on the hazard lights. That's why Volkswagen as well as Jim Ellis VW of Atlanta calls it intelligent.
Carefree Maintenance
Wellness for your wheels.
At Volkswagen, they believe in thier products so much that they give you three years or 36,000 miles of Carefree Maintenance?on the house. Come by Jim Ellis VW of Atlanta for a courtesy vehicle check within the first 90 days, or 6,000 miles, and ask us any questions you have while we give your 2012 Tiguan a basic checkup. Then come by every year, or 10,000 miles, for your remaining scheduled maintenance checks. It's that simple. So relax and enjoy every carefree mile in your new VW. That's what it's there for. And because it's a Volkswagen, it'll keep that new-car feeling for many years to come.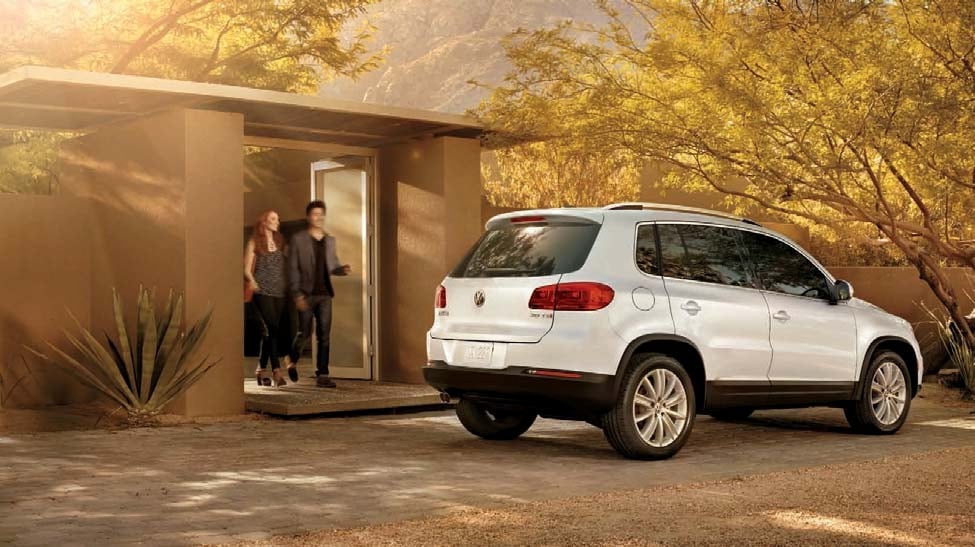 Technology
Standard
The 2012 Tiguan comes loaded with standard features that are anything but standard. That means an eight-speaker stereo that not only rocks, but rocks with uncompromised clarity. And Bluetooth® technology that doesn't just make and take calls, it also responds to your voice. And heated side mirrors with turn signals built in for added safety. Because we believe that standards should be raised whenever possible.
Bluetooth
You can do more than just make and take hands-free phone calls with Bluetooth with voice command. Enjoy the convenience of simply pushing a button, speaking a command to your Bluetooth-equipped phone and standing by as it makes the call for you.

Trip computer
The onboard multi-function trip computer can tell you everything from the temperature outside to what's currently playing on the eight-speaker stereo to the number of miles until your next fill-up. It's the perfect travel companion because it has all the answers and never complains.
Heated signal mirrors
Our side view mirrors are heated to help defrost snow, ice, and fog for greater visibility on all those chilly mornings and frigid evenings when you have to get in your 2012 Tiguan and go. And the built-in turn signals will aler t everyone to your intended next move, which can help prevent collisions.
Electric parking brake
The days of pulling levers or pushing pedals to activate the parking brake are over, thanks to the electric parking brake. Now, the simple lift of a finger is all it takes to set the brake. And because there's no handbrake lever between the front seats, you get a little more elbow room; and don't forget about the cupholders.
In-dash CD player and multi-speaker sound system
Ever since the invention of car stereos, people have grown accustomed to listening to music when they're on the go. Or talk radio. Or the news. Thanks to the in-dash CD player with auxiliary input, you can listen to any CD you bring along for the ride and all the music on your portable MP3 player. Of course, when you're tired of playing DJ, you can just hand things over to the AM/FM stereo.
Technology
Available
The 2012 Tiguan has a whole slew of premium features that take the joy of German engineering to the next level. From color touchscreen navigation with SiriusXM Satellite Radio to a 300-watt sound system, they're engineered to add some serious fun to every drive.
Dynaudio® premium sound system
With the 300-watt Dynaudio sound system with eight premium speakers and DSP processing technology, road noise will practically disappear as you spend mile after mile listening to music on the premium touchscreen sound system. Plus, you can entertain yourself as the miles tick by using your three-month trial to SiriusXM Satellite Radio.
Touchscreen navigation system
Not only does this five-inch color touchscreen stereo and navigation system come with a three-month trial subscription to SiriusXM, but it's also great at playing music you own. Whether it's on your MP3 player or a CD, your favorites are just a click away.
iPod® integration
Once you get the MDI with iPod cable, you'll wonder how you ever lived without one. It lets you easily navigate your playlists, albums, and songs all through the intuitive touchscreen interface on your stereo. Because sometimes enjoying the ride is just as important as getting there.
Multi-function steering wheel
Go ahead, grip the multi-function steering wheel. Marvel at its comfortable and functional design. Doesn't that feel nice? This steering wheel comes with integrated controls for easy access to the entertainment and Bluetooth systems. It's your connection to the road, your car, and so much more.
Touchscreen sound system
On the touchscreen stereo, you've got an in-dash six-CD changer, AM/FM stereo, and SD card reader, all playing tunes through eight speakers. Did we mention that the CD changer can also play MP3 and WMA CDs with hundreds of songs on a single disc? Plus, all of that music, entertainment, and more can be easily navigated using the intuitive 6.5-inch touchscreen interface right in the dash of your Tiguan.
Bi-Xenon headlights with LED Daytime Running Lights
Brighter than halogen or regular filament bulbs, Bi-Xenon light is created by an arc of electricity inside the bulb that's filled with xenon gas. It's so effective that both the low and high beams can use the same bulb. They're headlights Edison would be proud of.
Come by Jim Ellis Volkswagen of Atlanta today and expect the best!