Atlanta, get ready for the highly-anticipated release of the Volkswagen ID.4 crossover SUV! Embracing Volkswagen's pioneering spirit of fun-loving, capable, accessible, and affordable vehicles, the ID.4 packs a futuristic punch that is already the envy of other vehicles. The EV market segment is the fastest-growing segment in the automotive industry. Call it a trend. Call it a mission. Call it what you will, EV vehicles are the future, and Volkswagen is committed to being environmentally neutral within a very short amount of time. Volkswagen's made a lasting impression on this country at a time when change was on the horizon. VW C.O.O. Ralf Brandstatter recently stated that "Climate change is happening, and it's time to do something about it." Well, Volkswagen has answered the call, and much like it did nearly 60 years ago, VW produces vehicles that are destined to be icons. You will get the latest information, right here at Jim Ellis VW of Atlanta.
ID.4 Specs & Range
The Volkswagen ID.4 is built upon VWs universal EV set-up known as the MEB electric propulsion platform. As scheduled, VW has slated to release four variants of the ID.4 nameplate with a rumored GTX model as the top of the line example. All ID.4 models will favor a rear-wheel-drive electric motor, with an optional forward electric motor providing eAWD. Currently, the models (with exact names yet to be specified) will come with an available 146HP, 168HP, 173HP, or 201HP rear-drive. The former two will draw power from a 52kWh lithium-ion battery while the latter will utilize a 77kWh lithium-ion battery. A forward electric motor adds 101HP to any of these set-ups. Lastly, the ID.4 has a diminutive .26 drag coefficient, making it one of the most aerodynamic SUVs in the market.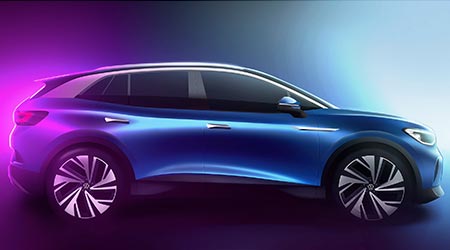 Volkswagen notes that the 77kWh models will have a range of 323 miles. When you consider that the VW ID.4 also boasts a fleet-footed charge cycle from 0-80% in thirty minutes at a DC fast charger, any road-trip is now achieved with the same ease as an internal combustion engine (ICE) vehicle. Simple wall charging and AC charging will also be available with the correct cables. The national network of charge-points is 16K+ locations, growing by the day. The ID.4 is meant to be a long-range cruiser that can be "topped-up" while you are at lunch. Why only 30 minutes to 80% charge, you might ask? To avoid any possible risk of overcharge, the remaining 20% takes about 30-40 minutes to go through a balanced (slow) charging cycle. In other words, the battery for your VW ID.4 charges the same way as you would pour a glass of water. You fill it to almost full pretty fast and then slow down for the rest of the way as to not spill.
In terms of features, you can expect to find advanced driver assistance as with any available Volkswagen model such as forward and rear collision alert, brake assistance, lane assistance, adaptive cruise, Apple CarPlay, Android Auto, and quite possible ID-Pilot. ID-Pilot is Volkswagen's autonomous driving feature that has already been seen to work in earlier ID concept models.
VW ID.4 Dimensions and Interior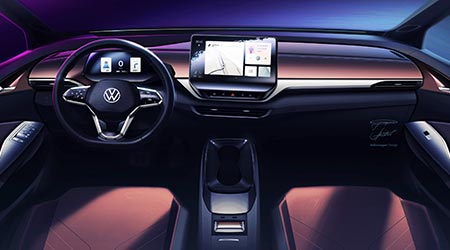 Built on the MEB platform, the ID.4 will have a wheelbase of 109.2 inches. Outwardly, a recent test-drive ID.4 was lower, wider, and longer than the 2nd generation Tiguan. The cabin also offers an open-architecture feel thanks to powertrain components being tucked nicely out of the way. The cabin is freed up for maximum passenger space and comfort. Futurists will love the trifecta of information displays. A generously sized 10-inch infotainment is pointed at the driver for all connectivity needs, and a 5.3-inch cluster is standard. The ID.4 makes a 12-inch driver information center available, right alongside an augmented reality heads-up display system that reportedly uses the entire windshield.
Sport-minded driving enthusiasts will love the configurable driver modes, precision handling, and disco-dance-floor-carving maneuverability of the ID.4. Thanks to its super-low center of gravity, this SUV has minimal body roll and is very composed zipping through town or cruising on the highway. The VW ID.4 has nearly perfect weight distribution is supported in forward corners by MacPherson struts, whereas a multi-link rear with adaptive damping capability is also available. 18-inch wheels will be standard, and upgrades will be available through 21-inches. All passengers will enter through their respective lateral opening door, and stadium-like seating will enhance visibility for all and augment the SUV-feel.
Jim Ellis VW Atlanta Is Your ID.4 Resource Center
"Never before has an electric vehicle been conceived with such a global outlook," says VW C.O.O. Ralf Brandstatter. In fact, VW has committed more dollars ($12.3 Billion, if you really want to know) to production capacity than any other manufacturer out there. The best part is that this revolutionary vehicle will be available to anyone that wants it. Unlike other EV vehicles with price tags soaring to $95K, the ID.4 can be had for as little as a third of that figure. Not to mention that there will also be a $7500 federal tax credit. Jim Ellis VW is filling its first order-call now, so be sure to reserve yours ahead of time.
Lastly, the Jim Ellis VW team has put together an exclusive case-file of everything you need to know!
When will VW electric cars be available in the US?
Currently, they are on schedule to deliver this fall. Fortunately, production has picked up and is right on track for a timely, on-target delivery. Special orders may arrive early in 2021, but initial dealer allocation is right on schedule!
Where is the VW ID.4 made?
The first ID.4 SUVs to make landfall here will be produced in Zwickau, Germany. US production will begin as early as 2022 in Chattanooga, TN. Volkswagen is committed to a goal of 1.5 million units sold by 2025 and there is currently a network of five facilities world-wide, contributing to this effort.
What colors will be available for the ID.4?
Now what fun would it be if there weren't a few surprises?
How do I order my ID.4?
Jim Ellis has a team of ID.4 EV specialists standing by here, to assist you. Ordering an ID.4 is much like ordering any other vehicle. We will assess your needs and work with you to ensure you get the perfect ID.4. A nominal deposit will be taken, which is fully refundable.
What is the range of the VW ID.4?
According to the WLTP test cycle, the 77kWh ID.4 has a range of up to 323 miles. As with all EV vehicles, range depends largely on usage. So depending on regenerative braking level, tow-load, a/c, accessory charging, driving style, weather, and driving condition, your mileage will vary.
How much will the ID.4 cost?
It is expected that the ID.4 will come in four distinct models, with model designations yet to be released. We anticipate an S, SE, SEL, and GTX. They are estimated to be priced from $35K starting with the S, and then moving up in $5K increments respectively.
The Jim Ellis VW team is proud to be at the forefront of this momentous release, and we will keep you updated on exclusive information as it becomes available to us. Check back in with us frequently as things are getting really exciting around here!
Pre-Order Your VW ID.4 Today