After a brief hiatus from the Volkswagen line-up, the 2021 Golf R is back for the 2022 model year. If you want to make sure your schedule is cleared when the Volkswagen Golf R release date finally comes, keep your eyes peeled after the start of the year. The redesigned VW Golf R is expected to be available at our lot in January 2022. We really do mean stay on high alert because this is the Volkswagen Golf model, as you've never seen it before. Lose focus for just a moment, and you might miss this sleek and speedy Golf R redesign zooming by.
What Upgrades Were Added During the Golf R Redesign?
Volkswagen took some time off so they could get the new Golf R where it needed to be. The Golf R Volkswagen fans remember from 2019 has reemerged with a more streamlined exterior built for speed, an improved braking system including larger front brakes, and a Vehicle Dynamics Manager that coordinates your car for optimum performance. Don't let the classic Golf hatchback silhouette fool you; there's plenty of fight in this dog.
The Vehicle Dynamics Manager takes data measurements up to 200 times a second in the 2021 Golf R, adjusting the 4Motion All Wheel Drive, transmission, brakes, and more.
Has the Performance Improved With the Golf R Redesign?
We know you like to go fast, so we'll just tell you now: Yes.
From a technical standpoint, the new Golf R has 315 horsepower and 310 pound-feet of torque, up from the less-powerful 288 horsepower and 280 pound-feet in the 2019 Golf R. Max torque is now available from 2,100 rpm to 5,350 rpm through either a North American-specified six-speed manual or a seven-speed DSG® dual-clutch automatic.
Need it in more straightforward terms? In short, the 2022 Golf R can now hit 0-62 mph in 4.7 seconds, with an on-track top speed of 155 mph.1
4Motion AWD makes sure every part of your car is in tune with that power, making even the windiest roads into racetrack-like conditions.
What Does the R in Golf R Stand For?
Racing. That's right! The 2021 Golf R puts both the speed-demon and weekday warrior's best to the test with five escalating driving modes. "Comfort" mode is ideal for daily cruising between responsibilities, while "Sport" offers the standard versatile Volkswagen performance that fits any trip. "Race" brings out the beast under the hood with a louder, growling setup, and you can activate it easily by forcefully pressing the "R" button that toggles between driving modes. The two new modes, "Special" and "Drift," provide something different than any behind-the-wheel world before them.
"Special" mode was developed at the Nürburgring Nordschleife racetrack in Nürburg, Germany, host of Formula 1's famed German Grand Prix. On the same track that the legendary driver Jackie Stewart nicknamed "The Green Hell," project engineers coordinated DSG downshifts for cornering and other high-speed settings for similar environments in the 2021 Golf R. "Drift" mode, intended only for the track, changes the stability control and all-wheel-drive power delivery modes to allow tire-smoking, sideways action on the new Golf R's 19-inch summer performance tires. What other car of its kind has been tested against the same elevation changes and blind corners that have stymied the world's best drivers over 13 miles of terror at the globe's longest track since 1927?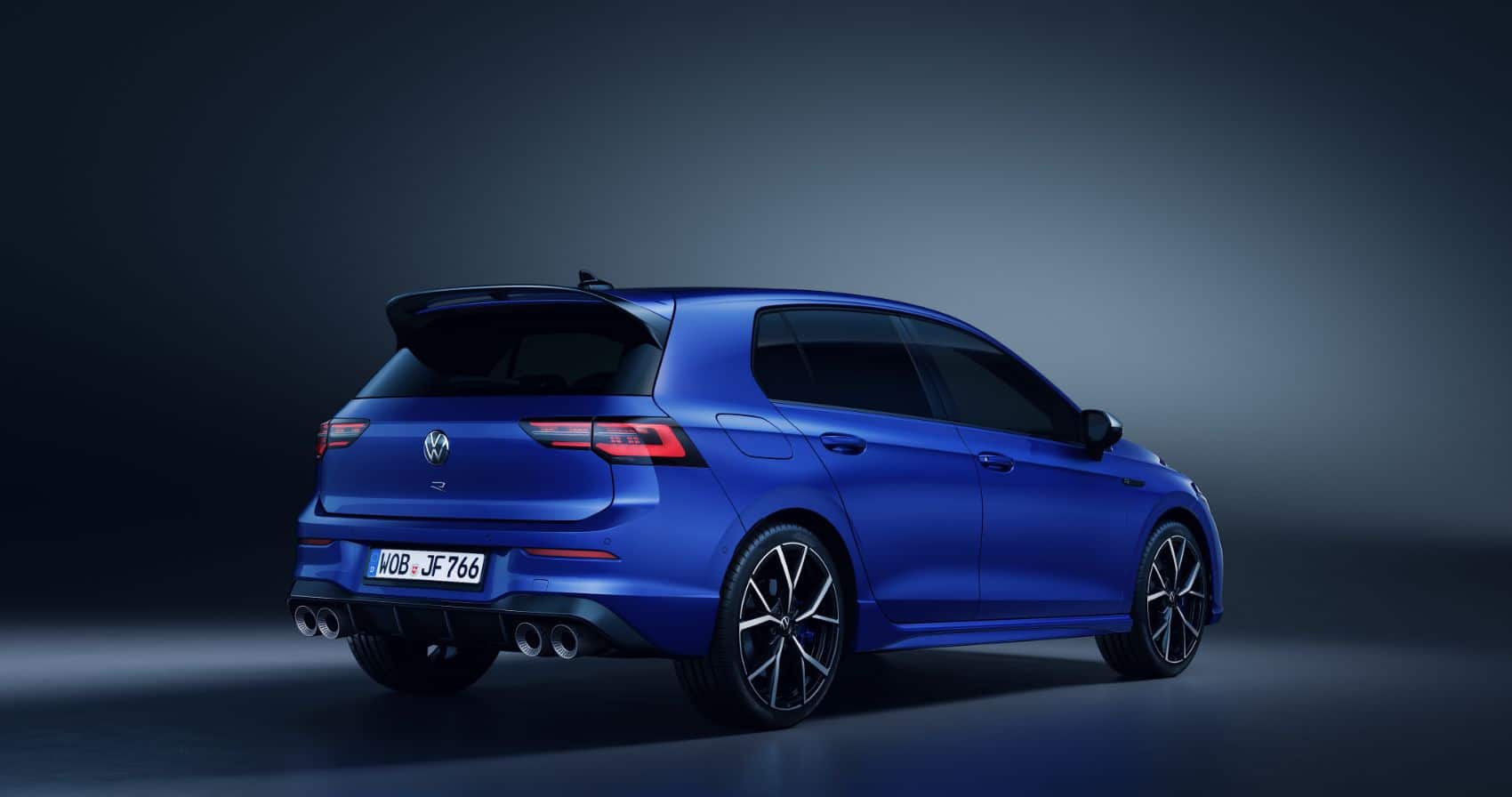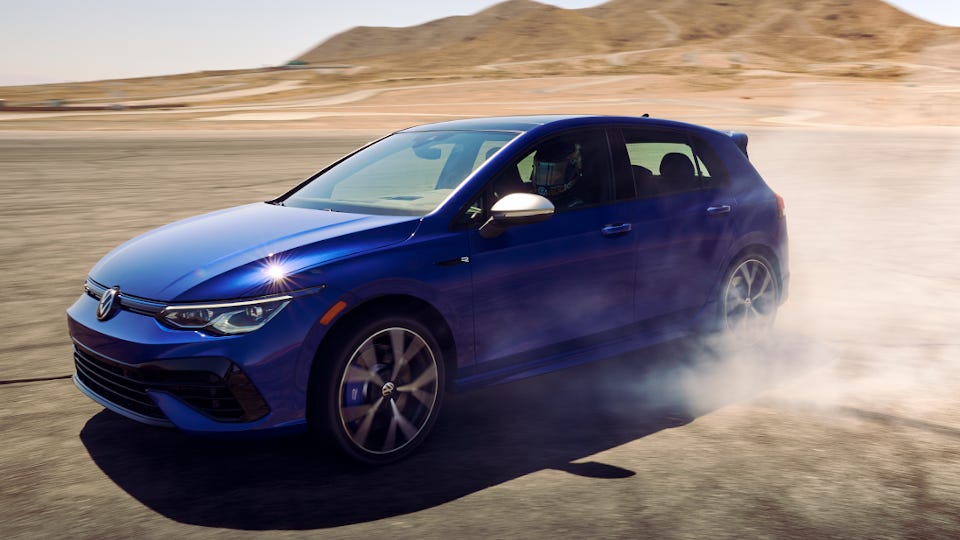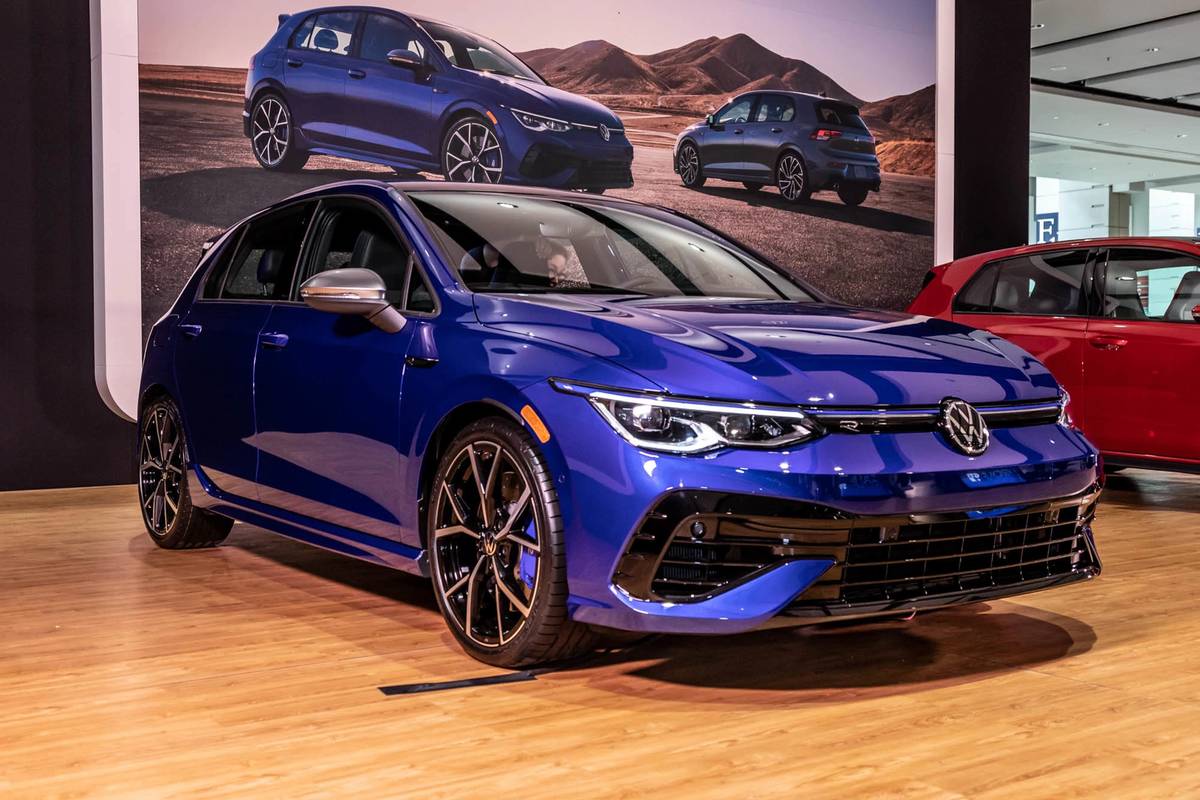 How much will the 2022 Golf R cost?
Recently, Volkswagen announced that one of their most popular models to date, the racing-inspired Golf R, will be returning to the fold in the initial quarter of 2022. Experts believe this model will have an estimated starting price of $43,645 MSRP. A couple of trim levels are expected to be available, allowing the driver to choose between a 2.0-liter turbocharged four-cylinder setup underneath the hood or an alternative option featuring a seven-speed dual-clutch gearbox.
When can I order a 2022 Golf R?
Look for the 2022 Golf R release date at our dealership as the new year begins. We're expecting to have several 2022 models available for you in January of 2022. To make sure you're the first in line when the 2022 Golf R debuts, contact your local VW dealership and let them know you'd like to be notified when this gorgeous new model is finally set to debut. They'll make sure your spot is saved and also will share any newly released information about the vehicle they think you might like to know.
Will the 2022 Golf R have a sunroof?
We all love a sunroof. Opening up the top of your car on a brisk summer drive and feeling the wind flow through your cabin is a thrill everyone can get behind. Fortunately for you and your crew, all trim levels of the 2022 Golf R come standard with an easily activated sunroof that will connect your drives to the sky with a simple press of a finger.
Select Your Speed
If you're not going to take the new Golf R to the track, don't worry. Drivers can also customize an "Individual" drive mode setting to generate their exact preferences and priorities. It doesn't have to be all about the speed all the time. Comfort is extended throughout the cabin in cushy Nappa leather sport seats, a heated multifunction sports steering wheel, and a 10-inch touchscreen infotainment center that can tell you everything going on under the hood. Quickly view gearbox temperature, boost pressure, a G-meter, the torque distribution of the 4Motion all-wheel-drive system with a couple of swipes.
Choose from three vivid color choices: Lapiz Blue Metallic, Pure White, or Deep Black Pearl Effect. And reduce or amplify the amount of engine noise you hear in the cabin with the touch of a button. The 2021 Golf R packs a ton of versatility and customization into a compact frame, creating enough options for drivers to make each drive feel tailor-made.
The End of an Era, the First of Its Kind
The VW Golf R and VW Golf GTI will be the only VW Golf models to continue on into 2022, as the standard VW Golf will no longer be annually updated after 2021 comes to a close. This redesigned model is clearly a step in a new direction for this Volkswagen design pillar, so stay ready for the Golf R release date.
The
new VW Taos
is one of the Volkswagen releases for 2022 as well. Each of these 2022 models is designed to bring reliability and peak performance to your driveway. Seize the day, every day, in any one of these groundbreaking Volkswagen models.
Are You the Fastest in Atlanta?
You can expect to be able to take advantage of the VW Golf R release date in early 2022. After this year comes to a close, our dealerships will begin to receive the newest version of the Volkswagen Golf R. Jim Ellis Volkswagen of Chamblee in Atlanta, GA, has served the greater Atlanta area with their Volkswagen needs for decades. Our sales specialists will listen to the vision you have for your next car and match you up with a Volkswagen that drives your daily routine and favorite pastimes forward.
If you'd like to see how the redesigned 2021 Golf R might look in your driveway, call us today to reserve or pre-order before the public has their chance.
Disclosure:*Top track speed electronically limited in U.S. Always obey all speed and traffic laws.