The Electric Volkswagen Kombi Van: VW ID. Buzz

Thanks to Volkswagen, the VW ID. Buzz Electric Kombi van is on the way, and eco-minded drivers looking for something special will be head over heels. The iconic VW Microbus from the '60s & '70s captured the imagination of free spirits across the globe. Wherever there was a beach, good times, guitars, and campfires, you were sure to see a bus as the backdrop. The original version disappeared but now emerges as the demand for a "different" type of vehicle takes center stage. This page will tell you more about the forthcoming models' inspiration, but we'll also tell you about what you can expect when driving this electrified hippy van.
Life With the Volkswagen ID. Buzz
First things first. Take the idea of an excellent emission-free vehicle to the next level. So many of our customers ask us how life will be different with an EV. Are there special needs and considerations? What about range? How much does it cost to charge an EV? In our neck of the woods, 93% of the public charging stations are available for use without cost. Think about that for a second. Imagine cruising around and never having to pay for "filling-up." This is just one of the main benefits of jumping into your new EV lifestyle.
The national network of charging stations is growing fast to accommodate public demand. So wherever you are, do an internet search for the chargers in your area that you can use without any additional charges (pun intended). Currently, the Volkswagen ID.4 offers a complimentary charging plan from Electrify America for three full years (this covers you at their locations if complementary charging isn't available). We are expecting to see a similar promotion with the VW ID. Buzz Electric Kombi van.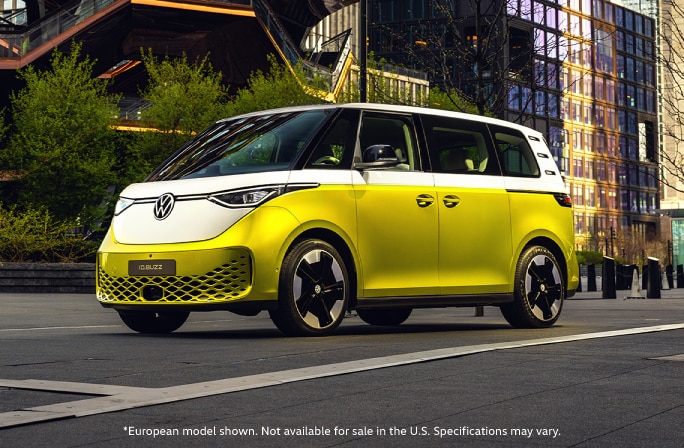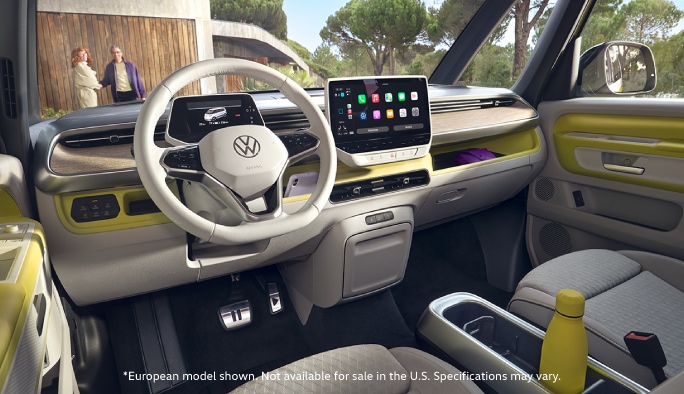 Come Inside the VW ID. Buzz Electric Kombi Van
The current model is only available in Europe, but we expect our version as early as 2023. There are three versions. The VW ID. Buzz Life, the VW ID. Buzz Style and the VW ID. Buzz 1st Edition. European-spec editions all come with standard wireless charging, a 10-inch infotainment center with smartphone connectivity, gesture recognition controls, multi-colored ambient lighting, factory navigation, heated seats, tons of charge ports, and endless colors to may your hippie van interior as far out or square as you desire.
If you're looking for an eco-friendly camper van, then the North American-spec model is worth waiting for. Sources state that our version will have a third row with mid-row benches that can be removed, slid, turned, and even folded flat for sleeping. Keep your eye on our new VW specials for a great deal on this truly special vehicle.
Get Happy About MPGe & Range
There must be a reason why the new bus has a permanent smile on its face. As we mentioned, the European electric Kombi van is out there already having a blast. In terms of performance & specs, that model uses a 77 kWh lithium-ion battery, producing 204 horsepower at the rear wheels. A dual-motor version is promised, and it's been stated that our version will have a larger battery pack. The European version sees an astonishing 350 miles on a single charge, according to WLTP testing.1 We'll post the results from the EPA as soon as their testing is complete.
Take Yours Home. Take Yours Anywhere
You'll want to jump when you see the American version pop up in our new inventory. This vehicle is highly anticipated and has been rumored to enter production for nearly a decade. Our time is coming, so connect with a specialist about the VW ID. Buzz Electric Kombi van. You can get on our email updates list and make your reservation when the time comes.
The Volkswagen brand is synonymous with changing times. It's no coincidence that this nameplate reappears now, ready to take on the future with the latest techno-mobility features. Be the first to put this eco-friendly Kombi van in your driveway and set the trend that everyone will soon follow.
---
1All vehicles are tested according to WLTP technical procedures. Figures shown are for comparability purposes; only compare fuel consumption, CO2, and equivalent electric range figures with other vehicles tested to the same technical procedures. These figures may not reflect real life driving results, which will depend upon a number of factors including the accessories fitted (post-registration), variations in weather, driving styles, vehicle load (and, for battery electric vehicles, the starting charge of the battery). Figures for plug-in hybrid vehicles were obtained using a combination of battery power and fuel. Plug-in hybrid vehicles require mains electricity for charging. Figures for battery electric vehicles were obtained after the battery had been fully charged. Battery electric vehicles require mains electricity for charging. Zero emissions while driving. Fuel consumption for battery electric vehicles is not applicable. Figures quoted are subject to change due to ongoing approvals/changes and range figures may include options not available in the UK. Please consult your retailer for further information. The vehicle specification shown on the website and brochures may vary as Volkswagen UK review the model range line up throughout the year. Please ensure that you clarify the exact vehicle specification with your Volkswagen Retailer at point of order.