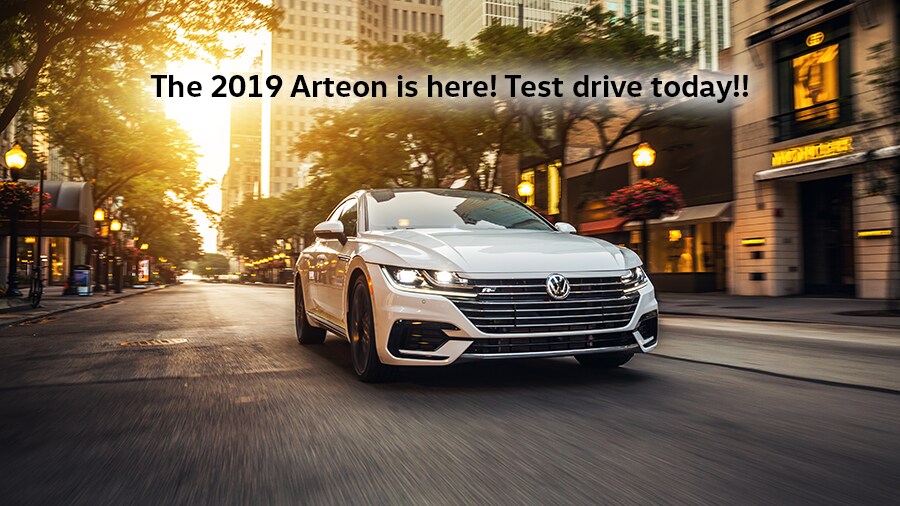 Introducing the 2019 Arteon
The moment we've all been waiting for has arrived. The brand-new 2019 Volkswagen Arteon has arrived - so come on in and take a test drive!
It has been a long time coming, and your garage has held out long enough. Start having fun with your commute and get behind the wheel of the much-anticipated Volkswagen Arteon.
Here at Jim Ellis Volkswagen of Chamblee near Atlanta, we have one of the largest selections of the Volkswagen Arteon for sale in Atlanta.
Get to know the Arteon
With a look all its own, the Arteon has all the best features of your favorite VW with a luxurious vibe. Supple Nappa leather, heated seats and steering, and a massaging driver's seat are just a few of many standout features of the 2019 VW Arteon.
This premium sedan fits effortlessly into your busy life with performance-enhancing features like DCC adaptive chassis control. This feature offers 15 settings of suspension firmness to choose from, so you can customize the drive to your preferences. And the DCC adaptively adjusts the optimal force for each wheel to create a smooth ride every time.
Under the hood, the Arteon is powered by a 2.0-liter turbo engine with 268 horsepower and 258 lb-ft of torque.
Test drive the 2019 Volkswagen Arteon
With plenty of space for the family to sit comfortably, this fun-to-drive sedan works as well for a road trip as it does for your daily commute. And the best part is that it actually makes any type of driving a fun experience for everyone.
But the only way to know for yourself is to come in for a test drive. Take the entire family to see how roomy and comfortable this vehicle really is. Test out the 3-zone control regions to learn that you really can make everyone happy.
Take your Areton test drive at night to see the stars or on a nice afternoon to feel the breeze from the power-tilting panoramic sunroof.
But there's one thing you should know before you get behind the wheel. After a leisurely test drive, you'll have to peel yourself out of the massaging driver's seat - at least long enough to complete the buying process. After that, it's all yours. You might just find yourself driving a lot more often!
Come on in to the best place to find the VW Arteon for sale in Atlanta - Jim Ellis Volkswagen of Chamblee near Atlanta.
We're looking forward to seeing you!