2022 Volkswagen ID.4 Lease Offers & Specials In Atlanta
Low Monthly Payments - Call For Pricing
View Inventory
VW ID.4 Lease Deals For You
The Volkswagen brand was born out of the need to make amazing vehicles available to everyone, and our VW ID.4 lease deals uphold that promise. For those new to this vehicle, the VW ID.4 is the first all-electric vehicle from the VW brand. Learn more about our Volkswagen ID.4 SUVs here, or keep scrolling for leasing benefits & more.
FAQ & Our VW ID.4 Lease Deals
There are even more questions than the few addressed above. We've compiled a list of FAQs that should help you navigate your selection of the perfect VW ID.4 from our new inventory.

It sure is! Make sure you explore our inventory, and our latest VW ID.4 lease specials on current units. We do our best to keep our website inventory up to date, but we recommend contacting us to confirm availability. One of our vehicle specialists will be able to cue up your favorite or initiate the digital retail process.

When you browse our inventory and call us with your favorite stock number, you can be driving yours home shortly after your call. The first step is finding the one you love the most. The second step is determining your lease requirements and other deal factors (like trades, etc.). You can even use our VW ID.4 lease calculator to get a birdseye view of your deal. We can have your VW ID.4 washed and ready for your arrival and inspection. With paperwork prepared ahead of time, all you have to do is sign and drive her home!

The 2022 VW ID.4 has an improved range of 280 miles, according to the EPA.1 The Pro S has an EPA-estimated range of 268 miles with RWD and 245 miles with AWD, while the AWD pro gets a 251-mile rating.1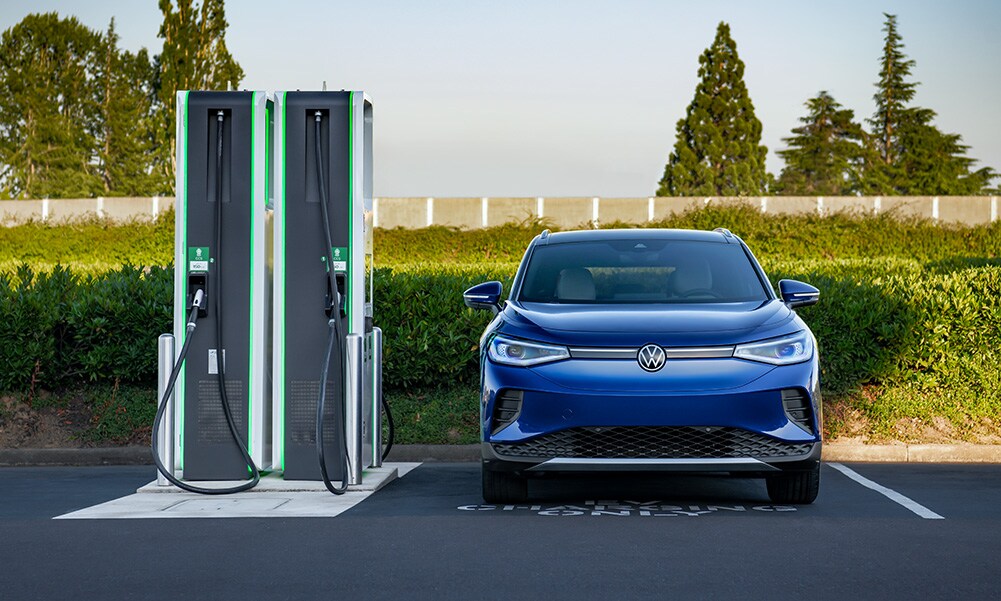 Exceptional Trims & Exclusive VW ID.4 Lease Deals
Since sneak peeks of the VW ID.4 began a few years ago, eco-minded drivers have been anxious to finally have one. Recent bragging rights include a coveted spot on the Car & Driver's Editor's Choice List. Two models are currently available:
The VW ID.4 Pro
The VW ID.4 Pro S
Standard equipment includes keyless entry, LED headlights, a digital driver's center, a 10" touchscreen infotainment system, factory navigation, wireless app functionality, voice recognition, ambient lighting, VW ID.Light user communications system, adaptive cruise control, autonomous braking, lane-departure warning, and lane-keep assist. Configure yours as you will — we've got Volkswagen ID.4 lease deals to match!
A Surprising Bonus With Your New EV Life
Many of our guests come to our VW ID.4 lease deals with this as their first step into electric mobility. Many questions are asked regarding range, charging, incentives, and changes in driving behavior. You can enjoy the benefit of a network of over 500 public, no-cost charging stations. Commute and live life in Atlanta, GA — it's possible to never pay for vehicle energy costs again.
Any VW ID.4 lease special comes equipped with gear for easy charging at home or on the go at a public DC charging station. 2022 models have accelerated charging times, making "topping-up" even easier. Additionally, new models have a max EPA-rated 280 miles per charge with values changing slightly depending on equipment.1
Beyond Our VW ID.4 Lease Deals
We can't wait to see you off in your new all-electric VW SUV. But that said, if you decide that the VW ID.4 isn't right for you, we've got some other fantastic options. Be sure to explore the new Volkswagen Atlas, which comes equipped with seating for seven, plenty of digital technology, and a few secret features that we'll show you on your test drive. So when are you coming?
View Inventory
---
* Call for pricing.
1EPA estimates only. Your results will vary.