2022 Volkswagen Tiguan Lease Deals & Specials
Low Monthly Payments - Call For Pricing
View Inventory
VW Tiguan Lease Deals For You
Our VW Tiguan lease deals cater to your every need. Visit our showroom today in Atlanta, GA, and pick out the particular Volkswagen Tiguan SUV model that you want to lease. We'll show you how to set up a lease that provides you immediate access to this talented SUV without a long-term commitment.
FAQ About Our VW Tiguan Lease Deals
Do you have a question about the Volkswagen Tiguan lease specials at Jim Ellis Volkswagen of Chamblee? You're not the only one. Our showroom staff often answers these questions at our location in Atlanta, GA.

Do you drive long distances often? Ask our team to set you up with a high-mileage lease. We'll ensure you have enough miles to get everything done and explain how mileage and lease terms are related.

Finding premium gas can challenge luxury SUV owners who often need to fuel up. That's not the case with the models in our VW Tiguan lease deals. The Volkswagen Tiguan SUV runs well on regular unleaded gasoline and moves efficiently wherever you go. Enjoy comfortable characteristics throughout the cabin in a VW model that doesn't require you to spend more than necessary at the tank.

Tiguan combines two muses for Volkswagen project engineers: the tiger and iguana. Drive this ferocious and endlessly adaptable vehicle today at Jim Ellis Volkswagen of Chamblee. A different name is just the beginning of what makes this standout SUV unique.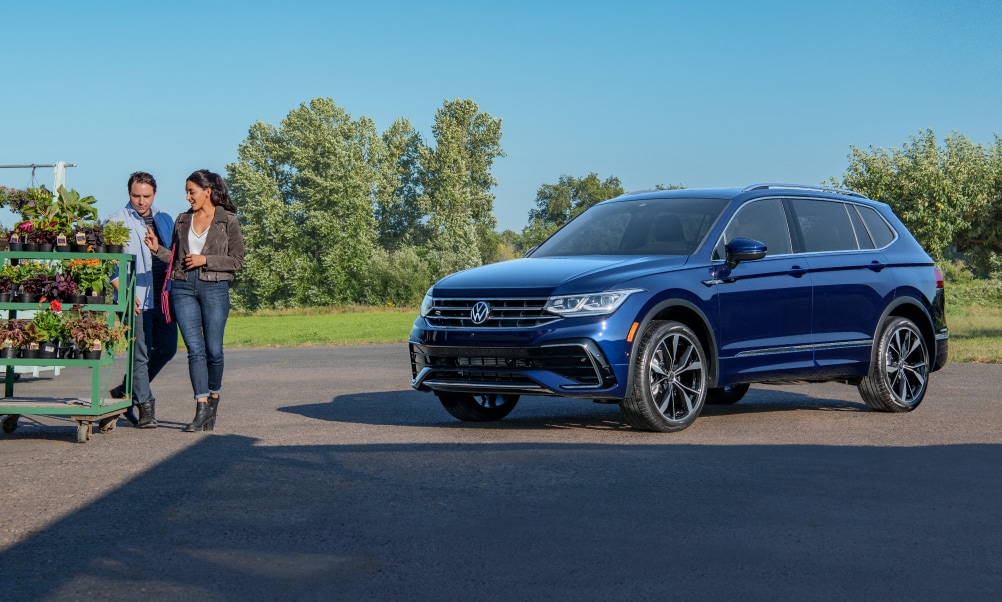 Take Advantage of Volkswagen Tiguan Lease Specials
Our lease specials at Jim Ellis Volkswagen of Chamblee are centered around you. Our lease agreements are structured to give you future freedom, clearly outlined parameters, and short lease lengths. Enjoy a custom lease that takes care of all your needs and leave our dealership with a spotless VW superstar at your fingertips.
If you haven't seen the new Volkswagen Tiguan in person, you're in for a treat when you enter our showroom. A striking presence delivers powerful performance with persistence, and the interior is functional and well-organized. Learn more about how you can take home a new Volkswagen Tiguan SUV on your terms.
Sign Up for VW SUV Leases in Atlanta, GA.
Leasing Tiguan Volkswagen SUVs begins by browsing through our available trim levels. Sort through models in our online inventory or see our entire fleet for yourself at Jim Ellis Volkswagen of Chamblee. We'll help you compare features, powertrains, and lease prices for the following trim levels inside our new inventory.
VW Tiguan S
VW Tiguan SE
VW Tiguan SE R-Line Black
VW Tiguan SEL
VW Tiguan SEL Premium R-Line
We Have Lease Deals on VW Tiguan SUVs
Find the VW Tiguan lease offer that fits what you're looking for and enjoy easier driving to all of your typical spots. This SUV has room for up to seven seats in some cases, enough to take home half the team after practice. Add an adrenaline rush with a pace-pushing burst to your arsenal.
Our pre-owned Volkswagen Tiguan SUV models bring you premium comfort at a competitive price. Each model in our certified pre-owned vehicle inventory passes through several checkpoints, reviews, and tests before being eligible for certification. Our technicians have checked out every inch of your pre-owned vehicle before you see it for the first time at our dealership in Atlanta, GA. Take the wheel of your next SUV at Jim Ellis Volkswagen of Chamblee and move around in style.
View Inventory
---
* Call for pricing.