Going Electric: Volkswagen ID.4 vs Tesla Model Y
There are many rivalries in the new electric SUV segment, but the most interesting is the Volkswagen ID.4 AWD Pro vs. Tesla Model Y matchup. These two vehicles are all-electric SUVs, but they differ a great deal in design philosophy. Where Tesla is concerned with packing more and more technology into their vehicle – whether it's really useful or not – the ID.4 takes a more refined approach.
VW ID.4 vs. Tesla Model Y: Performance
When you're trying to decide whether to get the VW ID.4 or Tesla Model Y, consider performance. The ID.4 has two available trims, both of which have the same standard powertrain and an available dual-motor all-wheel-drive option. The former uses a 77.0-kWh battery pack and a rear-mounted motor to generate 201 horsepower. That's very substantial, but the all-wheel-drive configuration tops it with 295 ponies thanks to the second motor.
The Tesla Model Y has two trims as well, but just one available powertrain. The 75-kWh battery pairs with a pair of motors to put out 480 horsepower in an all-wheel-drive configuration.
However, horsepower is not the only thing to consider in the question of the VW ID.4 Pro AWD vs. Tesla Model Y. With its wild horsepower and stiff suspension, the Model Y is not very pleasing to drive. The ID.4, however, has a smooth ride and powerful acceleration. This is an example of the superior Volkswagen design ethos that privileges driver experience over raw numbers.
If you want to start driving a VW ID.4 with a low monthly payment, then you'll want to consider our VW ID.4 lease deals. Leasing a vehicle lets you drive a new car for a fraction of the price of buying one. After a set term, usually a couple of years, you return the vehicle to us. This way, you don't have to worry much about maintenance or a high monthly payment but still get to drive a new car.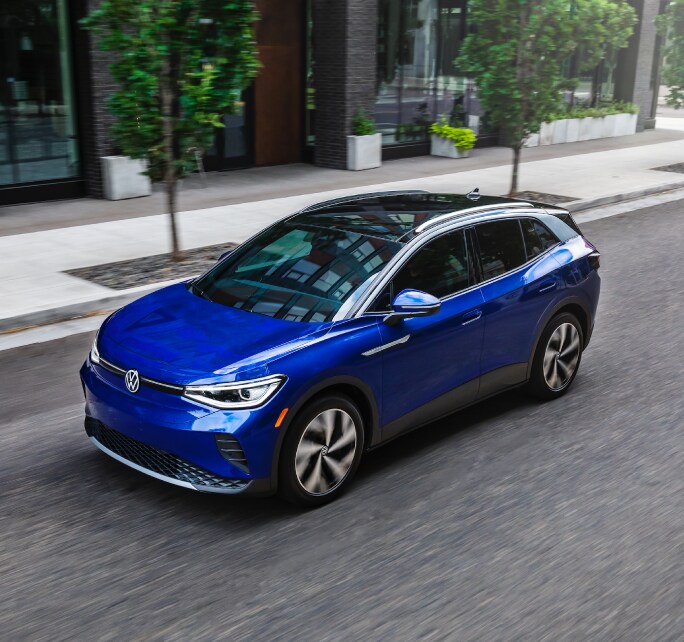 | | | |
| --- | --- | --- |
| | 2022 VW ID.4 Pro AWD | 2022 Tesla Model Y |
| Cargo space | 30.3 cubic feet | 30.2 cubic feet |
| Dimensions | L: 180.5 in W: 72.9 H: 65.1 in | L: 187 in W: 75.6 in H: 63.9 in |
| Passengers | 5 | 5 |
| Towing Capacity | N/A | N/A |
| EPA Fuel Economy (combined) | 96 | 117 |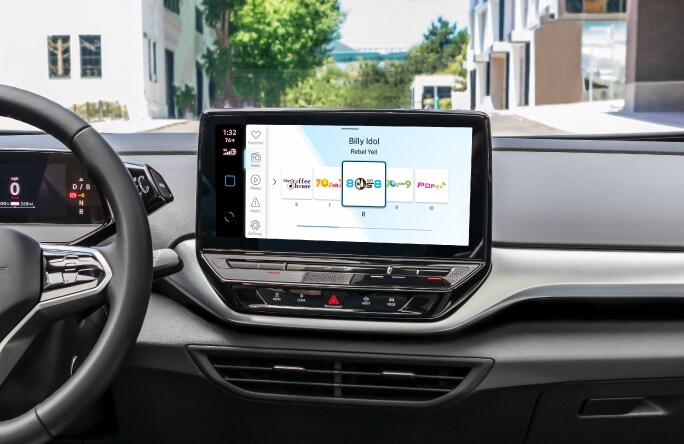 Tesla Model Y vs. Volkswagen ID.4: Interior and Features
The Volkswagen ID.4 AWD Pro vs. Tesla Model Y battle heats up when we reach the vehicle interior. The Tesla Model Y features a specialized vegan fabric that some drivers like and others dislike the feel of. It also has a panoramic glass roof.
VW, on the other hand, did not try to re-invent the wheel. You can choose between cloth seats and leatherette interior upholstery, and the vehicle has luxurious features like a leather-wrapped steering wheel. It also has an available panoramic glass roof on the Pro trim.
In the Volkswagen ID.4 vs. Tesla Model Y matchup, the ID.4 wins out in the interior category. Its materials are not polarizing like those of the Model Y, and it has a wide array of available technology. There are also great VW ID.4 accessories that let you customize the vehicle further. It's time to check out our VW ID.4 for sale.
Volkswagen ID.4 AWD Pro vs. Tesla Model Y
The VW ID.4 Pro AWD vs. Tesla Model Y electric vehicle comparison is a complicated beast. However, the ID.4 wins out at the end of the day because VW designed an SUV with drivers in mind, not specs. It's both more comfortable to drive and more comfortable to sit in.
Here at Jim Ellis Volkswagen of Chamblee, we have a wide array of new and used inventory. Our whole team is dedicated to customer service; we can hardly wait to see you at our dealership. Contact us today to schedule a test drive.
Frequently Asked Questions
What is the towing capacity of a VW ID.4?
The VW ID.4 is an impressive all-electric SUV that can serve you well as a daily driver or as an adventure-ready weekend vehicle. It can tow an impressive 2,700 pounds,1 enough to take the family boat or pop-up camper along for an out-of-town getaway.
How long does it take to charge a VW ID.4?
The answer to this question depends on the charger you are using. On a 120V outlet, it takes about two days to charge fully; on a 240V outlet, this time is reduced to about eight hours. That means that you can easily recharge the vehicle overnight. At a DC fast charging station, many of which are free to use, it can reach 80% power in less than one hour.
What colors does the VW ID.4 come in?
The 2022 Volkswagen ID.4 has six available exterior paint colors. These are Moonstone Gray, Dusk Blue Metallic, Kings Red Metallic, Scale Silver Metallic, Glacier White Metallic, and Mythos Black Metallic.
---
1Maximum tow rating when equipped with the all-electric ID.4 powertrain and factory-installed towing hitch. Vehicle load, other accessories, and options may reduce maximum towing capacity. See vehicle Owner's Manual for details.