Search Inventory By Model
Your Atlanta Volkswagen Dealership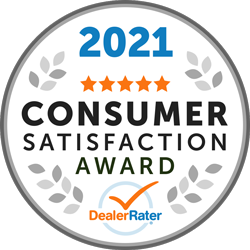 Serving customers like you has been a dream come true for our Jim Ellis Volkswagen of Chamblee dealership team since 1971. Since we opened our doors nearly 50 years ago, everything we do is about service. We know you work hard, and we value the faith you place in us to deliver you both a vehicle and an experience worthy of your trust. Our dedication to customer satisfaction is why we love selling the "people's car." Volkswagen is a brand that embodies value, durability, and affordability. VW cars are also quite diverse, with different models able to fill different roles for you and your family.
Our new VW Tiguan inventory contains SUVs that make great weekend adventure vehicles, for example. The Tiguan is incredibly popular because of its versatility, capability, and style. Volkswagen automakers design vehicles for every kind of person, and we're here to help you find the VW vehicle that's right for you. Read on to discover more about our sedans, SUVs, and electric vehicles, and decide which is the best fit. We also offer comprehensive automotive service and competitive financing plans. Visit the Jim Ellis VW of Chamblee team in Atlanta, GA, today for all your vehicular needs.
Used Cars for Sale in Atlanta
The VW brand is all about finding freedom. We learned long ago that freedom also means choice. This ethos is a key part of the way we do business. In addition to stocking a comprehensive variety of used Volkswagen vehicles, we have various cars from other manufacturers. This allows our team to offer a wide range of choices. However, we do think that VW cars offer drivers the best value. SUVs are a popular choice, and VW has a great lineup. You can compare the VW Taos vs. Tiguan SUVs to see this for yourself.
Many of our pre-owned vehicles are recent models; they have modern features and low mileage but do not usually sell for the price of a new car. In short, they offer the best of both worlds. For folks shopping on a budget, we also have used cars for sale under $15,000. These vehicles are easy cash purchases but also offer a great way for new drivers to build or improve their credit with a small loan and easy payment. Whatever you're looking to find in a vehicle, your friendly VW dealer in Atlanta, GA, has a solution for you.
The Exciting Volkswagen Vehicles for Sale at Jim Ellis Volkswagen of Chamblee
Our team is proud to offer you expert staff advice and competitive low-rate financing possibilities, as well as variety; it's the spice of life. Being a fan of Volkswagen vehicles means you can choose from our sweeping selection of cars, with plenty of models drawing enthusiast excitement from near and far. As long-time VW vehicle enthusiasts, we want to share our passion with you. Here's what's new at Jim Ellis Volkswagen of Chamblee:
The New Volkswagen ID.4: A Powerful All-Electric SUV
The future is here. It's stylish, practical, and all-electric. Hot off the factory floor and fresh on our lot in Atlanta, GA, the Volkswagen ID.4 is coming at you as the first entirely electric Volkswagen model in history. That alone is impressive, but when you look deeper, things only get better. It starts with SUV practicality, letting your family and their belongings come along for the ride - and what a ride it is.
All-wheel-drive precision, instant electric torque, smooth comfort, and incredible fuel economy are all hallmarks of the sleek new VW ID.4. The vehicle's impressive driving range can tackle all your daily driving duties, while a stylish, premium interior makes spending time in the car a joy. This VW SUV is dynamic and versatile. It can serve you well as a cross-country road trip machine or a daily driver. Visit our local VW dealership to test-drive our new VW ID.4 for sale.
The New Volkswagen Taos: A Spacious and Speedy SUV
We do our utmost to be in tune with the desires and needs of our customers. It has become evident to our team that the VW Taos is a very popular vehicle, and for a good reason. This powerful subcompact SUV blends a spacious interior with excellent fuel economy and an impressive turbocharged engine. It makes a great family car because the kids and all of their stuff will fit neatly in the back, but the Taos is not so big as to be difficult to park or use to weave through traffic in Atlanta, GA.
The new VW Taos has an incredible amount of cargo space. With the rear seats up, you're going to be able to fit 28 cubic feet of cargo in the trunk. Taking them down raises your hauling capacity to a whopping 66 cubes. You'll have an easy time moving furniture, crates, or just about anything else with this versatile SUV. We know that you will fall in love with the new Volkswagen Taos once you try it out. Visit us for a tour.
The New Volkswagen Tiguan: A Muscular and Stylish Vehicle
The new Volkswagen Tiguan received an impressive refresh for the 2022 model year. It boasts a sleek new body design, stylish grille, and comfortable interior. New premium materials line the cabin, while technology such as the Volkswagen Digital Cockpit gives the new Tiguan a futuristic aesthetic. A new trim lineup also joins the fun, including luxury and sporty-thrills versions of the car - or both. The choice is yours.
By re-tuning the drivetrain for the new model, Volkswagen automakers have bestowed the Tiguan with an even smoother ride, which is saying quite a bit considering how well the VW Tiguan has always handled. The already-great fuel economy of this sleek SUV has seen similar improvement. The new VW Tiguan is a great option among many in our wide-ranging inventory of new VW cars for sale. Visit your new favorite Volkswagen dealer today to test drive the dynamic new VW Tiguan or any other vehicle that strikes your fancy.
Friendly and Professional Auto Service in Atlanta, GA
In addition to offering a fantastic lineup of new and used cars for sale, our team is proud to service automobiles for our customers in Atlanta, GA. The technicians at our VW service center are certified and capable of handling any task you require of them. Our team conducts speedy and clean oil changes, rotates tires promptly, and manages bigger jobs like transmission rebuilds in a timely and professional fashion.
When real maintenance woes strike, we have your back. Sometimes parts give out — that's an unfortunate reality of vehicle ownership. Luckily for you, we can help you order VW parts and even install them for you. No matter your situation, we are ready to step up and get your vehicle back on the road as quickly as we can. Reach out to the friendly service team at Jim Ellis Volkswagen of Chamblee today to book your auto maintenance appointment.
Get in Touch
Contact Our Sales Department

:

770-458-6811
Monday

7:30 AM - 7:00 PM

Tuesday

7:30 AM - 7:00 PM

Wednesday

7:30 AM - 7:00 PM

Thursday

7:30 AM - 7:00 PM

Friday

7:30 AM - 7:00 PM

Saturday

7:30 AM - 7:00 PM

Sunday

Closed