2022 Volkswagen Atlas Lease Deals in Atlanta, GA
Low Monthly Payments - Call For Pricing
View Inventory
VW Atlas Lease Deals For You
Our Volkswagen inventory is built around you, and our VW Atlas lease deals might be the cream of the crop. This family SUV is configured to meet the needs of families on the go but who still require style, capability, and, dare we say: fun. This page will walk you through our leasing process, model features, and other benefits when shopping our new inventory.
FAQs & Our VW Atlas Lease Deals

There are a few key differences between these two SUVs. However, both are built on the same frame, allowing comparable passenger volume across both models. A key difference between them is the absence of a third row on the VW Atlas Cross Sport. With its fastback-inspired design, you gain a sporty look and coupe silhouette. We always recommend driving them to see which one feels best. It's common to see a guest come in for one of these SUVs and then surprise themselves by taking home the other.

The VW Tiguan is slightly smaller than the VW Atlas. The VW Atlas offers a third row as a standard feature, while the VW Tiguan makes it available as an option. Both models come with either FWD or AWD. Both can have upgraded cabins with luxury features. The VW Atlas is the only one of these SUVs with a V6, while the VW Tiguan is the only one of these SUVs to offer a more economical four-cylinder engine.

On the sales & leasing floor, you might hear someone say, "We can write you a lease for as many miles as you want, but it only makes sense to a point." In other words, a low-mile lease can start at around 7500 miles a year. This is ideal for a weekend vehicle or guest vehicle. At the top, we typically write leases for 15k miles. Yes, it's possible to add more, but the bank offers lease rates less favorable as you move up in miles. In other words, an 18k mile or 22k mile lease will often resemble a finance payment, and at that price, there are other benefits to be had from financing only.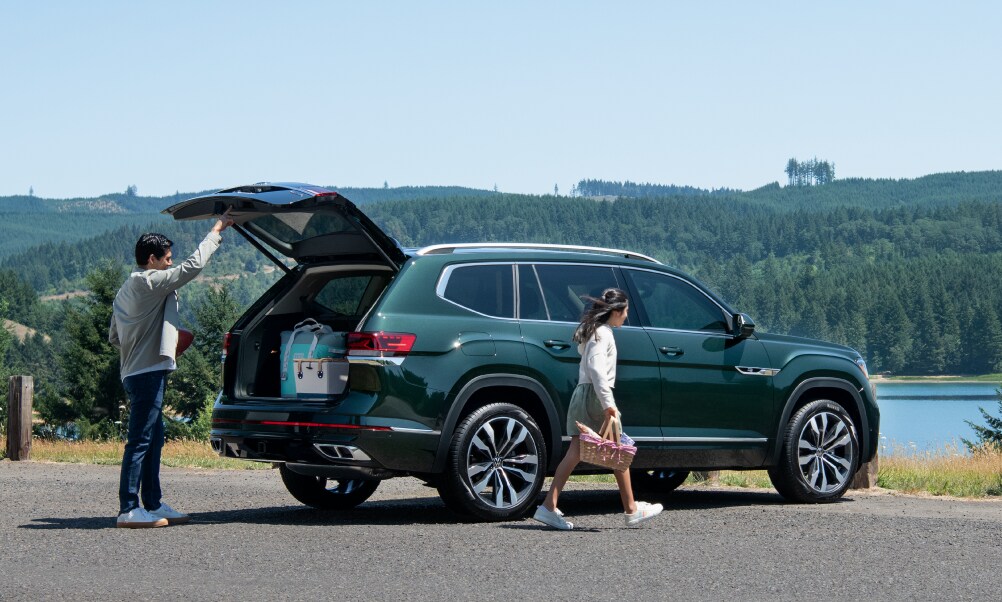 Reasons to Love Our VW Atlas Lease Deals
This is the store where the Jim Ellis Automotive legacy was born. Fifty years ago, our founder finished his service in the military and took whatever savings he had to open this facility. The dream was to be able to serve his community and bring a standard of ethics that defined his military career. Now known as the Jim Ellis Promise, you'll benefit from an incredible level of service on every new Volkswagen Atlas. Other vehicle benefits include:
Carry The Weight Of The World On Your Shoulders
Or at the very least, seven passengers. All VW Atlas lease deals come with seating for seven as a standard appointment. This is great news because not all SUVs are created equal. Many large SUVs have seven seats as an option, but we know you need them, so they're included here. Other niceties that help you bear the burden of suburban life are features like available seat cooling, upgraded audio, and more.
A Powerful VW Atlas Lease Offer
In addition to payments designed to meet your budget, all VW Atlas lease deals come with two years of complimentary factory maintenance. Additionally, we'd love to know if you're a recent college graduate, member of the military, or first responder. Ask your vehicle specialist about your current status, and they'll be happy to tell you about any additional incentives you might qualify for.
Lease VS. Buy
New to leasing? Here's the scoop: If you love lower payments, giving less out of pocket, know your driving habits, and love jumping into the latest model every few years, the taking home a VW Atlas lease special is for you. Keep in mind that a lease allows you to buy your vehicle at any time. Not the other way around. In other words, you cannot switch to a lease if you've decided to start by financing your vehicle. Our lease deals on a VW Atlas give you flexibility. If you prefer to own but prefer the lowest possible payment, you might want to consider a pre-owned Volkswagen Atlas.
View Inventory
---
* Call for pricing.